Wedding's in Drakensberg
Posted on Sat May 12, 2018.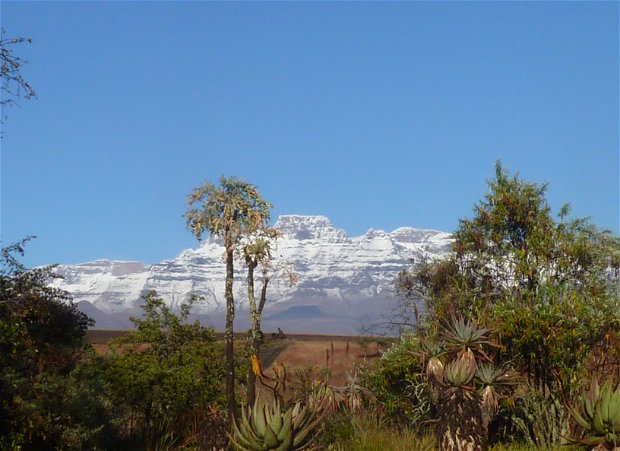 The beauty of the Drakensberg range can be compared to some of the popular mountain ranges in the World.
This majestic rock structure with jagged peaks and valleys is the ideal setting for any magical moment.
The "Berg" is becoming ever popular for engagements, birthdays and weddings.

The sun setting beyond the peaks is absolutely amazing, the burnt orange sky is the perfect setting for the amazing pictures.  Berg wedding's are becoming ever so popular amongst the young at heart.  Couples are opting for smaller weddings often willing to spend this special moment with close family and friends. INKOSANA Berg Lodge offers the awe-inspiring beauty of the Berg, set amongst indigenous plants and trees with literally a Rolls Royce view of the majestic Champagne Castle as the "bonnet", Cathkin Peak as the "Roof" and "Spare Tyre".
The entrance to INKOSANA Lodge from the driveway is rustic and farm like.  Driving down the 400m gravel road with 500 Yellow wood trees lined enhances the mood and the setting of this beautiful place.  
The rustic beauty of this peaceful and amazing place is a photographers haven.  The Lodge is surrounded by stunning settings such as the "herb garden" with a "summer house", summer fountain and shaped lemon and orange trees. A path winds pass traditional Zulu huts and a fresh water pool with a viewing deck onto manicured lawn.  This is the perfect place for your memorable photos with the mountain reflecting into the dam, just beyond the manicured lawn are a web of pathways to nine beautiful thatched Rondavels. This is truly a South African experience.  
INKOSANA Berg Lodge can sleep up to 60 guests, the lodge has dorm style accommodation, family rooms and Rondavels for couples.  INKOSANA has a functional kitchen and uses free range and organic ingredients.  A stretch tent overlooking the indigenous plants and trees can be propped for the perfect wedding.
Enquire about special rates for events and weddings.